Description
BMW E46 M3, 2001 E46 M3, 2002 E46 M3, 2003 E46 M3, 2004 E46 M3, 2005 E46 M3, 2006 E46 M3, E46 M3 Cold Air Intake, E46 M3 Performance Intake, E46 M3 Performance air intake, E46 M3 maf tube, e46 m3 intake, E46 M3
 air intake, e46 m3 air intake
Performance Air Intake Kit (MAF Pipe – CF Version
)
PARTS INCLUDED IN THIS PACKAGE
1 x E46 M3 Performance

MAF Pipe (made of Carbon Fiber Composite)

1 x Metal Clamp (to replace your original elbow to MAF-pipe clamp, optional)

2 x Sensor Screws
FEATURES
Super Aggressive Sound
Extra Large 4-inch diameter Max Air-Flow Tube Design
Allows for Hard Accelerations
Unrestricted High-Volume Air Intake
Digital precision and accuracy for perfect fitment and performance
Works with any 4-inch diameter inlet cone air-filter (not included in this kit), including K&N Filters, please see our other listings for vortex filters and heat-shields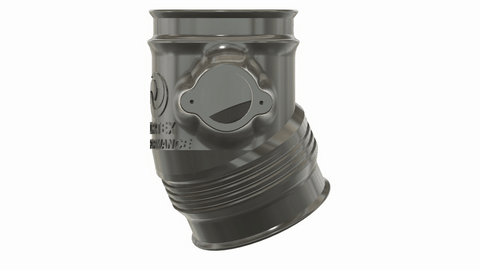 Made of High-Grade Carbon Fiber Composite

Impact Resistant, Chemical Resistant, Heat Resistant, UV Resistant
FITMENT
Direct Replacement – High Precision, Perfect fit

For 2001 to 2006 BMW E46 M3, SMG & 6-Speed Manual, all models coupe/convertible, All S54 Engines

Direct Fit into OEM elbow
INSTALLATION
Installation: Simply remove your OEM air intake and plug the new Performance MAF pipe into your OEM elbow pipe

Install Time:

15 mins

Difficulty Level: Intermediate
Install Guide PDF Available
Additional Notes: 

Although DIY is possible, 

PROFESSIONAL INSTALLATION IS RECOMMENDED

. Please check the PHOTOS and read the DESCRIPTION prior to buying. It is strongly recommended that you secure the intake pipe in the case that you do not already have a heat-shield.
SPECIFICATIONS
This pipe Fits directly into your OEM upper Elbow pipe

Your e46 m3 MAF sensor fits directly into the new Performance MAF pipe

Features 4″ extra large high-flow performance MAF tube
Made to be used with any 4″ inlet Cone Air Filters (not included in this kit), available for purchase separately
All air intake systems in the market for e46 m3 feature smaller by volume MAF pipe and filter architecture. However, this Performance MAF pipe is 4″ in diameter and it has been designed to maximize air flow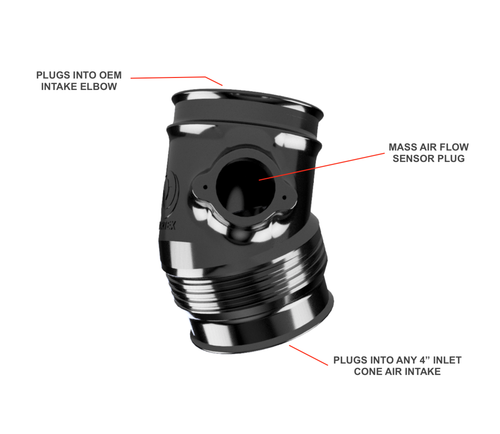 PERFORMANCE
Realize instant power gains, more aggressive sound
Dyno runs consistently show 17-20 HP

Gain VS stock air box on e46 m3

You can hear the aggressive sound of the intake on acceleration
Higher Throttle response, allows for harder acceleration
Plug and play, no software remap or tuning is required
The OEM air intake system on the e46 m3 is very restricted, this setup will increase air-flow dramatically
This setup is specially designed to provide more air flow than competition systems like K&N or aFe for a fraction of the cost
Other similar products cost $350 – $500 and provide less power gains
Tested Extensively on the E46 M3
HARDWARE ACCESSORIES INCLUDED

1 x Metal Clamp (to replace your original elbow to MAF-pipe clamp, optional)

2 x Sensor Screws
CONE AIR FILTER
Not included with this package,

if you need the air filter, please look at our other listing

Vortex MAF pipe works with any 4″ cone air filter, including K&N 4-inch diameter cone air filter

Vortex Filters are Designed for Higher Air Flow Systems

Includes High Quality Micro Cotton Filter That Can Be Easily Washed With Soap And Water
Dimensions: Overall Height: 6″, inlet diameter: 4″
Vortex Filters are Made By OEM Approved & ISO Certified Manufacturers With Materials That Meets Or Exceeds Strict OEM Requirements
Professional Installation Recommended
Plate and Mesh Are Made Out Of High Quality Aluminum To Keep It From Rusting On Cold Air Or High Moisture Locations
MANUFACTURING
Made in USA & Canada
SHIPPING
FAST Shipping to USA & Canada
Shipping to Europe, UK

We ship Worldwide! If your country is not listed for shipping – please contact us and we will provide you a shipping price
USA Shipment Services Available:
Fast Expedited Shipping via USPS
Worldwide Shipment Services Available
Fast

 

Expedited International Shipping
BMW E46 M3, 2001 E46 M3, 2002 E46 M3, 2003 E46 M3, 2004 E46 M3, 2005 E46 M3, 2006 E46 M3, E46 M3 Cold Air Intake, E46 M3 Performance Intake, E46 M3 Performance air intake, E46 M3 maf tube, e46 m3 intake, E46 M3 air intake, e46 m3 air intake
BMW E46 M3 2001 2002 2003 2004 2005 2006
Cold Air Intake, Performance Intake, Air Ram, Performance air intake, maf tube, e46 m3 intake, m3 air intake, e46 m3 air intake, Air Intake e46 m3