Description
Performance Air Intake Heat-Shield For BMW E46
For  BMW E46 323 325 328 330 3-Series, All Models
2001 2002 2003 2004 2005 2006
PARTS INCLUDED IN THIS PACKAGE
1 x Anodized Aluminum Heat-Shield

Includes 

hardware

 accessories to mount it onto your E46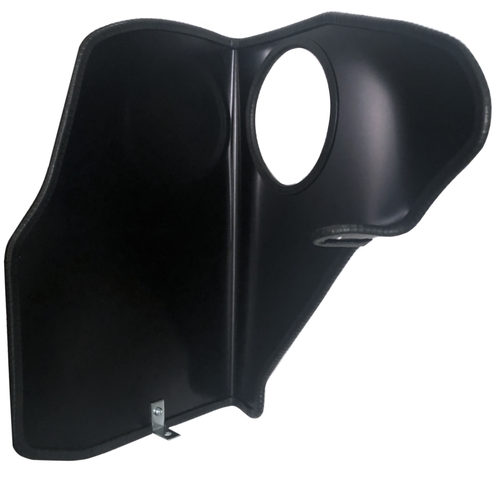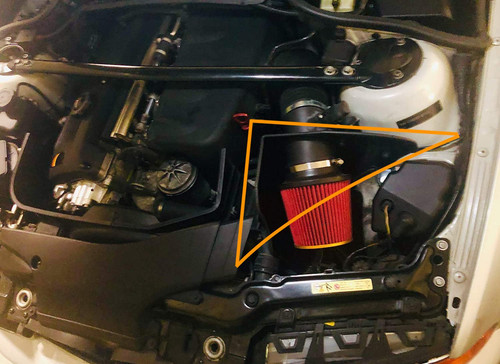 FEATURES
Heat shield specifically designed for E46 applications

Compatible with any MAF tube for air intake

Deflects heat/hot-air away from your air intake source

Coated with heat-deflecting anodization surface, reduces hot-air around air intake source

Allows for the use of cone air filter and Replaces your OEM air box

Compatible with any MAF pipe 4.4 inch (110mm) or smaller, including all Vortex MAF pipes (Please see our other listings for MAF pipes)
Almost all E46 aftermarket MAF Pipes are 4 inches in diameter or smaller – all compatible with this Heat-Shield
4.4 inch (110mm) diameter for any intake tube to pass through

Allows for the use of cone air filters

Replaces your OEM air box

Uses the existing right mount hole and the bottom stud to mount

Plug & Play for the E46 application

Simply remove your OEM Air Box and drop this in

Comes with all needed hardware
HEAT SHIELD
Designed for use with BMW E46 2001-2006 applications
Made of high quality Anodized Black Aluminum
Heat Deflection Anodization Process
Heat Resistant Anodization Chemicals Embedded
Aluminum 5052 is processed with a specific anodized process for high strength, corrosion resistance and long-lasting durability

Made of high-grade 5052 Anodized Aluminum, Chemical-Treated Black (not painted)

The surface is anodized black with a chemical reaction process, the black surface is not paint

Heat Deflection Anodization
FITMENT
Direct Replacement for the original air box

For 2001 to 2006 BMW E46 all models coupe/convertible
INSTALLATION
Installation: Simply remove your OEM air intake and put in the new heat-shield

Install Time: 20 mins

Difficulty Level: Intermediate

Install Guide PDF Available

Additional Notes: Although DIY is possible, PROFESSIONAL INSTALLATION IS RECOMMENDED. NO instruction except the manufacturer's original ones if there is any. Please check the PHOTOS and read the DESCRIPTION prior to buying. It is strongly recommended that you secure the intake pipe in the case that you do not already have a heat-shield.
HARDWARE ACCESSORIES INCLUDED
1 x Right mount bolt
1 x Bottom mount nut
MANUFACTURING
Made in USA & Canada

SHIPPING
FAST Shipping to USA & Canada

Shipping to Europe, UK, Netherlands, Norway, Sweden, Australia, New Zealand, Japan

We ship Worldwide! If your country is not listed for shipping – please contact us and we will provide you shipping price

Electronic Shipment Status Updates 

(Optional)


Please include your phone-number and email-address in the notes section during checkout for electronic shipment status updates

USA 

Shipment Services Available:


       – Fast Expedited Shipping via USPS, Tracking number will be provided

Worldwide Shipment Services Available
        – Fast Expedited International Shipping via Asendia, Tracking number will be provided
QUESTIONS?
Feel free to contact us ("contact seller" option on top right)

BMW E46 M3, 2001 E46 M3, 2002 E46 M3, 2003 E46 M3, 2004 E46 M3, 2005 E46 M3, 2006 E46 M3, E46 M3 Cold Air Intake, E46 M3 Performance Intake, E46 M3 Performance air intake, E46 M3 maf tube, e46 m3 intake, E46 M3
air intake, e46 m3 air intake
BMW E46 2001 2002 2003 2004 2005 2006 323 325 328 330 3-Series 323i  323ci 325i 325ci 328i 328ci 330i 330ci air intake
Cold Air Intake, Performance Intake, Air Ram, Performance air intake, maf tube, e46 intake, air intake, e46 air intake, Air Intake e46